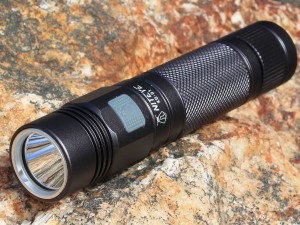 Niteye have recently released a series of brand new LED flashlights, so we're going to take a closer look at one of the standouts: The Niteye KO-01. Among the new entries the KO-01 fits the role of the slim styled light with a brutally powerful 1080 lumen beam. This flashlight review will outline the overall pros and cons of this new light, based on the light's specifications and our initial impressions. We're putting the KO-01 on the chopping block, so is it going to make the cut?
If you are looking for a new LED flashlight for everyday use, one of the most important things to consider is what exactly you need it for. In the case of the KO-01 its features include compact style and strong area lighting, making a great light for close to mid range use. While this light can very successfully be used outside for camping trips, hiking and the like, if you need a long range spotlight you're better off looking elsewhere.
Whether you prefer to use a holster or your pocket, the KO-01 comes with a lightweight anodized aluminum body that makes it very portable. The body of the light is also hard anodized so keeping the light is a rougher area such as a glovebox, toolbox or your vehicle's center console is an option. With a single side switch users are provided with an easy to use interface, although this is at the cost of increased control over mode switching.
While purely cosmetic, the KO-01 has a unique feature with gradual mode switching. When shuffling between modes the light level will gently fade higher or lower. The transition is easy on the eyes and a nice touch from the designers at Niteye. The ability to charge a flashlight within the flashlight by using a USB cable adds a ton of convenience to an already straightforward, no frills light.
Overall, the KO-01 is a promising addition to our catalog and good choice if you are in need of a lightweight, high power EDC.
Pros:
1080 Lumen maximum output
Slim, compact body style
Internally rechargeable
Unique gradual mode switching
Cons:
Battery not included
Single side switch operation
Limited beam distance
Sign up For Savings On Batteryjunction.com
Be the first to see flash sales, giveaways, product announcements, and more!