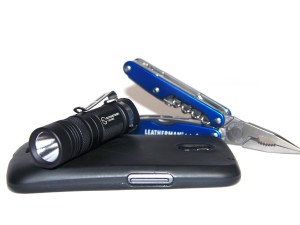 Last week, we highlighted the SOG Micron 2.0 folding knife in our first-ever EDC shoutout. Much of what we love about that handy little blade is seen in the SUNWAYMAN V11R: minimalism, durability, and ease-of-use.
When it comes to flashlights, there is a whole world of features and accessories to fit a wide-range of users. From UV beams, to self-defense strike bezels, you can have a modern light fitted with just about anything. But for every day carry gear, you want more simple offerings. The ideal EDC flashlight will be compact, bright, and adaptable – the V11R is all of the above.
Compact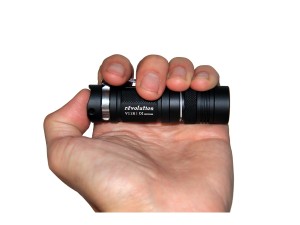 At only 3.3 inches long, and weighing only 2.3 oz (With a CR123A battery installed) , the V11R fits easily in any pocket without getting in the way. A removable pocket clip and lanyard add a variety of carrying options, and a hard-anodized aluminum body means its tough enough to withstand the rigors of every day use. What I like most about the V11R is that it doesn't feel like a such small light. When you hold it with your thumb on the tail-switch, your're not struggling to keep your grip.
Bright
Thanks to modern technologies like LED's and lithium batteries, small doesn't mean dim. The V11R can reach up to 570 lumens, meaning its way brighter than those full-sized paper-weights you'll find at the hardware store.  A textured reflector offers a dispersed beam pattern ideal for flooding a wide area with light, and a tempered glass lens is durable and scratch resistant, while maximizing the output of the XM-L U2 LED.
Adaptable
The feature that stands out most with the V11R is the magnetic ring interface. Turn the light on by clicking the tail-switch, then adjust the brightness by twisting the ring at the bezel. As you rotate, the light dims gradually, from the 570 lumen turbo output, to a 1 lumen ultra-low output. The ability to stop the brightness exactly where you need it means this light can be whatever you need it to be. Searching the camp site for fire wood? Crank up the output and scan the forest. Looking for the key hole to your front door? Dim it down and save your eyes.
The V11R is a perfect every day carry flashlight. Its rugged construction and impressive output mean it may be the last one you ever buy, making its sub $80.00 price-point a true bargain. You can order the V11R here for the lowest prices and best customer service!
Sign up For Savings On Batteryjunction.com
Be the first to see flash sales, giveaways, product announcements, and more!