Hi, I'm Gavin, and as I have worked at Battery Junction over the years I have come across more than a couple of products that I wish I had myself. In this blog post I will go through the top ten products (in no particular order) that have caught my eye.
1.
First up on the list is the Maxpedition Thermite Versipack.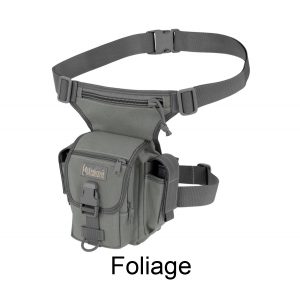 Being a huge skiing, biking, and hiking fan this handy pack caught my eye pretty quickly. This pack can be attached to the waist and leg, or held sling style over the shoulder. When skiing the waist/leg attachment is great for making sure that the pack stays firmly attached. When biking or hiking this pack can be more casually carried over the shoulder for a more comfortable and less movement restrictive method of carrying. Like most Maxpedition products, this pack is made to withstand some of the toughest conditions out there. With water and abrasion-resistant lightweight ballistic nylon fabric, as well as double stitched stress points I am confident that this pack would stand up to any rigors I might put it through.
2.
Next up on the top ten list is the Ultimate Survival Technologies Reusable Handwarmer. This product is perfect for anybody who goes out in the cold for extended periods of time. Living in Connecticut and being a frequent Vermont skier I have used many (probably hundreds) of disposable hand warmers over the years. This product is a great alternative that both helps my wallet and my conscience by being environmentally friendly. It is super easy to reuse the hand warmer, all that is needed is to place the used warmer in a pot of boiling water for about 15-20 minutes, or until the gel turns from orange to clear. This neat device is super affordable and has saved me big money that I would have otherwise been spending on hand and foot warmers.
3.
Next up on the top ten list is the Wiley X Nerve Goggles. These goggles are made and tested for military use so it is safe to say that they will stand up to anything I could put them through. The top down ventilation system is a great feature as it keeps that sealed goggle area from becoming too warm. Also, there is an anti fog coating on the goggles that importantly makes sure that the vision field never gets clouded. I have been eyeing these goggles for skiing purposes but they also could easily (and would probably be better) used for off-road biking/ATV track racing. They are a bit pricey at ~$85 but there is no doubt that these goggles will last for a couple of years and have the quality to be worth the price tag.
4.
Next up on the list of my top ten products is my favorite pet accessory the NiteIze NiteHowl light up dog collar. I personally use this product on a daily basis with my two dogs at home and love it. The collar is made of a plastic/rubber material that can be cut to fit any dog's neck in the diameter range of 12″ – 27″. I use this all the time when walking my black lab mix at night because without it I have trouble seeing her any further than 5 feet away. The collar is great for making sure cars see your dog when walking on the roads, or even for when you want to keep an eye on your dog while they go for a nighttime run in the yard. As a dog owner and enthusiast I cannot say enough good things about this light up collar.
5.
Coming in at 5 (even though order doesn't matter) is the very useful NiteIze HandleBand Smartphone Bike Attachment. This is just one of a couple of smartphone bike attachments that we have at Battery Junction. However, I prefer this one over the other options because of its universal fit feature. Because it can fit such a range of phone sizes I would have no problem getting a new iPhone, or changing to an Android because the bike attachment will work regardless. This attachment keeps the phone face up which is great for when you are using a GPS feature to get around, or are trying to track your fitness performance in an app. For just ~$15 this is a no-brainer bike/phone attachment.
6.
Being an outdoor person I would have to go with a headlamp for my flashlight pick, and the Petzl Tikka R+ Headlamp wins easily. This headlamp is rechargeable (USB compatible) and can have an output of up to 170 Lumens. However, the main draw for me is the Reactive Lighting Technology which allows the headlamp to make hands-free adjustments to the lighting pattern and strength. This feature is great because the main draw of headlamps is that they are mostly hands-free and this headlamp takes that into account by making it truly hands-free. The headlamp can also be connected with an app on your smartphone to allow for customization of lighting preferences. I have yet to come across a headlamp that is smarter or more hands-free than this lamp.
7.
The Tenergy Dual Port USB Power Bank is up next on my top ten list. As a college student and full-time smartphone addict I am a big fan of portable power banks. This one from Tenergy is one of the best options on the Battery Junction site because of its compact design mixed with large energy holding capacity. With two outbound ports for charging, this device can charge multiple devices at once and has a 8000mAh capacity for enough charge to go around. The slim design and built-in flashlight make this the best portable charger available at Battery Junction (in my opinion).
8.
Next on my wishlist is the Wagan 6L Thermo Electric Fridge/Warmer for car use. This one is on the wishlist because car trips are a pretty common occurrence for me and it would be a great convenience to have a fridge/heater for food and liquids. This unit plugs into any car charger and is compact enough to fit in between the driver and passengers seats for quick access while driving. This food container is the perfect companion for keeping coffee warm for an early morning ski drive, or for keeping beverages cool on the way to the beach over the summer. At a competitive price of ~$55 this cooler may be my next purchase.
9.  
The Leatherman MUT EOD Multi-Tool is an all-encompassing tool that is also in my top ten. This multi-tool from Leatherman is top of the line as far as multi-tools go. The MUT features 15 tools which can fulfill a range of functions. I would likely not need all the tools on any one trip, but my philosophy is that if you're going to bring a multi-tool you might as well bring a multi-tool that has it all. I would bring this tool with me on pretty much any outdoors trip because it has the potential to help out in so many situations. I'm not a big multi-tool person but the wide range of tools and the 25 year warranty make this an easy top ten contender on my wishlist.
10.
Last and definitely least on my top ten wishlist is the NiteIze GetLit S-Biner Flashlight/Bottle-opener. As a college student of drinking age I always have my eyes out for cool and interesting bottle openers. This one may be neither but the price, light, and goofy name are enough to make me wish I had it. This may feel like a cop-out for the tenth spot but I honestly couldn't choose because there are so many good products on Battery Junction.
If you liked any of the products in my top ten or are interested in coming across some of the products that just missed out, then come by Battery Junction and check out our selection of products!