Share your gear story with us, and win free stuff!
We love hearing from our customers about the cool stuff they do with our products. We would like to post your stories on our blog for all to enjoy. Staff favorites will even earn a prize! All walks of life and usages are welcome. Some ideas to help you get started:
Was one of our lanterns part of an amazing campout?
Did a piece of survival gear save your rear?
Is a tactical light a crucial part of your patrol or deployment?
Would you be stranded without our solar panels in your RV?
Was a multitool part of your clever lifehack?
Did your pocket flashlight or folding knife unexpectedly save the day?
Has one of our diving products seen an amazing shipwreck or a noteworthy reef?
Don't wait to polish your story and make every word perfect — just tell us in your natural, everyday voice. We read every submission! There's no obligation to buy anything, and no commitment — this is just about having fun. Submit your story today. The form is below, or you can click here to jump to it. New: Now you can upload photos that go with your story!
The Prizes
We'll be rotating our prize packs every month or two, so keep checking back for updates! We're giving away over $300 of merch, just for the heck of it. As of December '16, the following prize packs are up for grabs:
The Happy Pupper: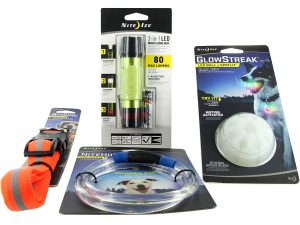 The Explorer: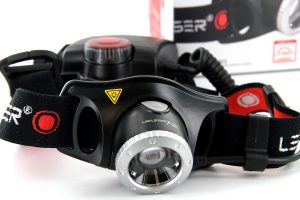 LED Lenser H7.2 LED Headlamp – 250 lumens – Retail Value $71.99
This beast of a headlamp features adjustable focus, a rear-mounted battery pack for huge burn times, and a 250 lumen beam.
Perfect for hiking, bicycling, caving, climbing, camping, auto work, attic/garage cleaning, and more.
If you discover any hidden treasure, you should remember the swell company who hooked you up. And by "company" I mean me.
Nextorch TA10 LED Flashlight – 560 Lumens – Retail Value $65.00
Strike fear in their hearts with this handheld defender. Dominate the battlefield or the streets with a tactical crenelated bezel, blinding strobe, and compatibility with four different batteries (AA, CR123A, 14500, or 16340).
For the soldier, law enforcement agent, survivalist, zombie apocalypse prepper, or first responder.
Bop them in the face.
The All-Rounder: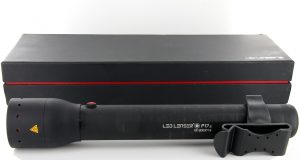 LED Lenser P17.2 LED Flashlight – 450 Lumens – Retail Value $119.99
Nestled in this beautiful, old-school body you'll find a 420 meter throw distance, adjustable beam focus, and a grippy surface.
Ideal for homeowners, old-timers who still use incandescent flashlights, evening yard work, and investigating that thump in the night.
Easily switch between floodbeam and long-distance, like ye olde incandescent lightes of yore.