Which Flashlight will earn the most points?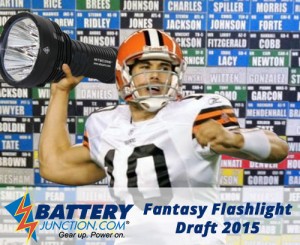 We're getting geared up and powered on for football season, and along with it one of our favorite pre-season activities: fantasy drafting! Combining love of the game with statistics and management, there is no better way to invest yourself into the season then taking part in a fantasy league. But how could we possibly enjoy this event even more? How could we optimize our play and combine all of our favorite things in to one glorious mess of pigskin, projected statistics and LED flashlights? You guessed it, this is the first annual Flashlight Fantasy Draft.
Flashlight Picks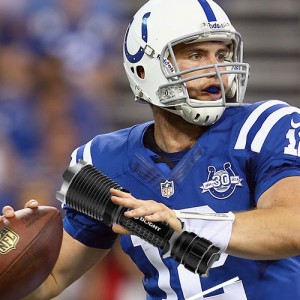 Quarterback (QB) – A great pick for QB needs to be light on their feet, reliable and most importantly they need to be able to throw. Our football draft saw the Colt's Andrew Luck as an early pick thanks to these qualities, all of which he shares with our flashlight pick – The Olight M23 Javelot. This baby is the whole package boasting portability, reliability and a beam distance that can cover 4.76 football fields. The stats don't lie, the M23 Javelot is a consistent performer and a great choice for a pick up early in your drafting phase.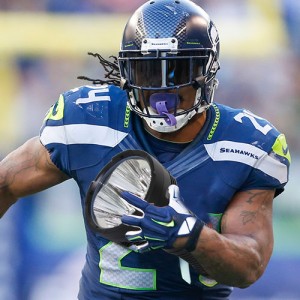 Running Back (RB) – When you hand the ball off to a player, they need to be prepared to break through a line of angry burly dudes that want nothing more than to crush them in to the ground. That's why our RB pick has got to be Marshawn Lynch, a man who has proven that just like the Nitecore TM16 Tiny Monster, Beastmode is just the press of a switch away. The TM16 features explosive power with 4000 lumens of LED light from 4 turbocharged CREE LEDs.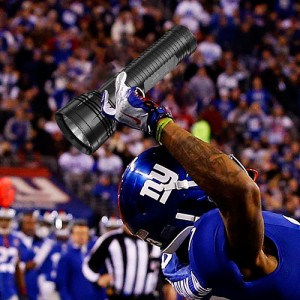 Wide Receiver (WR) – One of the most pivotal decisions in a fantasy draft, what we're looking for in a wide receiver is the ability to post big numbers and not get worn out while doing it. Odell Beckham Jr of the Giants is a relatively fresh face that shares a lot in common with the Nitecore EA81, a great performer with seemingly inexhaustible power source. The EA81 is a handheld powerhouse that runs on eight easily replaceable AA batteries, so you know that you won't run out of juice on the field. Keep an eye out for this flashlight in the first round.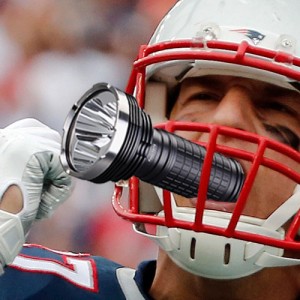 Tight End (TE) – Even the staunchest of the deflate-gaters cannot deny the greatness of Gronk. Rob Gronkowski is everything that embodies a great tight end – a blend of durability and dexterity that we've found in the Fenix TK75. 4000 lumens of power help this light burst through the opposing teams defense, and a series of flexible lighting modes keep it up to the challenge of adapting to the game as it plays out.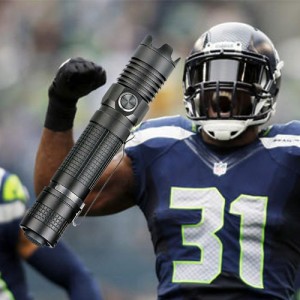 Defense (D/ST) – Seahawks, that is all. Although defense is not what you want to go for with your first few picks, getting a hold of the best defending team in the league will fill your position with a consistent performer. Last year the Seahawks tore through the opponents offense as if they  were an Olight M1X Striker, a powerful LED light with a deep crenelated strike bezel. But brute force isn't the only trick in the Striker's book, with a powerful strobe mode it can disorient the other team and is sure to force a few interceptions.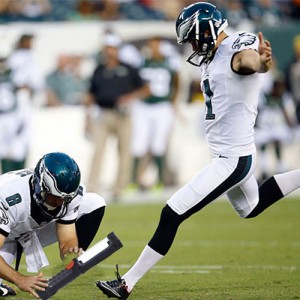 Kicker (K) – Cody Parkey is our choice for a kicker, with his previous season score being second overall. While his projected statistics aren't the highest, he's an up and coming player and will certainly be looking to improve upon last seasons performance. Another up and comer is the Energizer Hard Case Worklight, which much like a kicker holds a unique but vital position on the team. This flashlight is a handheld baton with 350 lumens of power that can easily illuminate its way between the goal posts.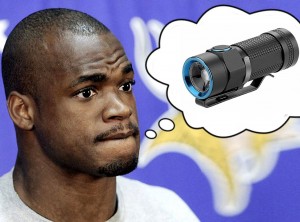 Flex Pick – Just because he's been out of the game for a season, Adrian Peterson might not be the sure thing he once was but he is certainly worth a pick up in the flex pick position. With a reputation for high tier, reliable performance we can't help but liken his arrival to that of the S1, a brand new EDC flashlight from Olight. This pocket sized light promises 500 lumens of bright lighting power in an incredibly compact form, the perfect flex pick for your every day carry setup.
There you have it folks, our favorite player and flashlight picks for the season. If you are looking to check out more information on any featured flashlight, head on over to batteryjunction.com and take a look!
Sign up For Savings On Batteryjunction.com
Be the first to see flash sales, giveaways, product announcements, and more!