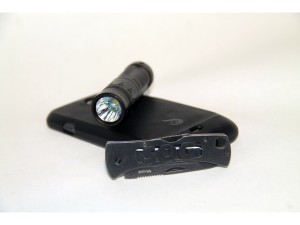 If you're anything like me, you've got a trusty kit of tools you won't leave home without. If you're even more like me, you tend to go overboard on when it comes to cutlery. For years my every day carry collection included some bid ole folding knife, sometimes with with assisted open, ergonomic grips, a partially serrated blade, and any other bells and whistles I could find. The truth is, while all of those features were great for fishing trips and extended stays in the back country, they just weren't what I needed in an EDC.
Minimalism is the name of the game here, and SOG nailed that with their Micron 2.0  folder.  It's two and a quarter inches unfolded and five inches opened up –  just enough blade for cutting some line or opening up a pesky package, and it's never in the way. At under one and a half ounces it's the perfect EDC for going out around town. I've had mine for over a year, and while she's taken her fair share of nicks and dings, I can say it's every bit as sharp as the day I got it. An occasional adjustment to the screw that joins blade to handle has been necessary to keep the action just where I want it. I'll be happy to have a larger blade on my next camping trip, but for my day-to-day, I'm perfectly happy with the Micron.
Sign up For Savings On Batteryjunction.com
Be the first to see flash sales, giveaways, product announcements, and more!