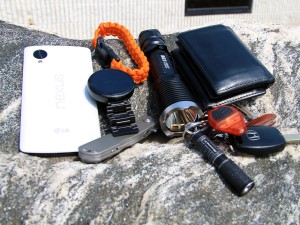 So we've started a segment called "What's in my pocket?", and I figured I'd let you guys and gals in on what I keep on me everyday. Being that I now consider myself a flashaholic, I just don't keep lights on my persons. It ranges from keys, wallet, my phone, my watch, a cool looking paracord bracelet, a SOG pocket knife, and my new Olight M23 Javelot. Peep into my every day, as I dump everything out.
Wallet: My wallet is very near and dear to me because it hold all of my valuables, such as money, debit/credit cards, random gift cards, and my drivers license. I've gone with a tri-fold wallet because there are so many slots and pockets for all of these items. I believe it is a Concepts by Claiborne wallet, oohh fancy. It was given to me as a birthday present a couple of years back and has served me very well.
Phone: I am an Android guy, through and through, and all of my smart phones have been Android. I just love the customization and the tinkering that goes with it. What we have here is a LG Nexus 5, the ultimate Google phone. I've rooted (jailbroken) this beast, so now I can overclock the processor, flash custom roms and customize it to no end. Plus, the Nexus 5 measures in at 5″, making it the perfect size for hands.
Watch: I busted up my watch a couple of months back and was looking for a replacement. So, I jumped on the smart watch train and purchased a Moto 360. I love this watch! It pairs with my phone and gives me all of my notifications on my wrist, all while looking like a real watch. There are hundreds of watch faces to choose from and it makes my life that much easier.
On the key ring: Lets see, first I have my car key and house keys. Second, I have a handy multi-tool, passed on from my father and a bottle opener that opens all of my beverages. 😉 The two stars of the show go to the Titanium Innovations Illuminati key light and the Nitize STS key light. Why you ask? Because you can just never have enough light. The Illuminati is great because it is very powerful, but the Nitize key light is just so convenient, with its swipe-to-swipe interface.
Knife: So I've had this SOG Twitch II pocket knife for a little bit now, and let me tell you, it is great. I keep it on my pocket every day and I seem to use it at like three times a day. You just never know when you need to either cut, scrape or open up some mail. It is the perfect size where it doesn't get in the way and is sharp enough to cut through the thickest rope.
Flashlight: I just picked up the Olight M23 Javelot tactical light. I have a lot of smaller EDC flashlights, but I've wanted a powerful, tactical flashlight for some time now. The M23 Javelot has everything you need in a tactical flashlight: its extremely bright, features a crenelated bezel and is very compact. And, with a maximum throw of up to 436 meters, I have no problems lighting up my way, your way, heck, everybody's way.
So, that's that. Anymore items and I'd have to get shorts with more pockets. Now that you've seen what I carry on a day to day basis, let us know in the comments what you keep in your pockets.
Sign up For Savings On Batteryjunction.com
Be the first to see flash sales, giveaways, product announcements, and more!