Its that time of year again, it's skiing season! Once the stress and intensity of the holiday season subsides it is time to hit the slopes, and there is no better place to gear up for your skiing trip than Battery Junction! This post will show you a few of the great cold winter sport accessories that we carry at Battery Junction.
The Thermite Versipack from Maxpedition is a great product for your next trip to the mountains. Originally designed for tactical and military use, this pack can also double as one of the sturdiest skiing bags you can find. The Versipack has the ability to either be worn as a shoulder sling or to be firmly attached to the waist and leg. The waist and leg attachment is a great option for more high intensity skiing as it provides a much tighter grip. The Thermite features abrasion resistant nylon material that can stand up to the most rigorous and testing circumstances. Carrying a cell phone and other semi breakable material while skiing has never been safer with a #AS-100 high grade closed-cell foam padding material that can absorb the impact from some of your hardest falls. Competitively priced with other name brand skiing bags, this multifaceted Maxpedition bag is a great way to carry around all you need while on the slopes.
The Wiley X Nerve Goggles are a high quality alternative to the standard skiing goggles that most people choose to use. These Wiley X goggles are all you need and more for the job of  protecting your eyes while skiing. Originally designed for high speed biking and combat situations, the Nerve Goggles meet ANSI Z87.1-2003 high velocity safety and MIL-PRF-31013 Vo Ballistic Standards. ANSI Z87.1-2003 high velocity safety means that the glasses meet the protection standards for impact, non-ionizing radiation, and liquid splash exposures. MIL-PRF-31013 Vo Ballistic Standards refer to military standards testing with reference to the size caliber bullet that the glasses can absorb without breaking. In addition to being tough as nails these goggles also feature no-fog ventilation technology and the ability to insert a prescription into the lenses. The no fog ventilation technology will keep your vision field clear from clouding during those high intensity mogul runs. These goggles are a great buy for any skiing enthusiast who is serious about their eye protection!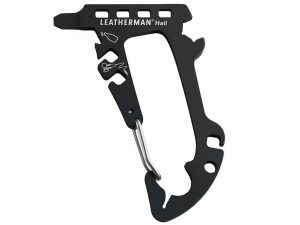 The Hail Snowboard Tool from Leatherman is a must have for both skiers and snowboarders alike. This handy pocket tool fulfills 5 different functions that are perfect for the most hardcore skiing enthusiasts. The scraper tool is perfect for shaving off any excess wax on the bottom of skiis or snowboards. The scraper can also smooth out any divots that you may have picked up while skiing through the woods. The flat/phillips head screwdriver and 10mm wrench tools are perfect for tightening or loosening bindings depending on preference and conditions. The handy lace assist tool is great for helping snowboarders get their boots tightened and ready in record time. The anti-tangle headphone holder keeps headphone organized and ready for use at all times. Finally, no multi tool would be complete without a bottle opener and the Hail Snowboard does not disappoint. The Hail Multitool is a great piece of equipment to have for quick on-the-go adjustments while out on the mountain!
The Olight S1 Baton is a great everyday carry flashlight to bring with you on the slopes. Whether skiing in back country or doing some "off trail" skiing it's always good to have a light source handy. The S1 is easily portable at just under 2.5″ but also packs a punch with a 500 lumen maximum output. Easily attach the clip to any ski jacket for a hands free carry when daylight gets low. Competitively priced and rechargeable, this light is a no-brainer for anyone who likes to ski into the evening.
Skiing trips are a fun time only if you are fully prepared for the possible range of weather and conditions. Make sure you are prepared for any possibility on the slopes by shopping at Battery Junction for your ski accessories!