When people think of self-defense tools items like pepper spray, whistles, or weapons come to mind, but not flashlights. This blog post will explain the possible benefits that a flashlight can give you in a situation where self-defense is required.
Bezel: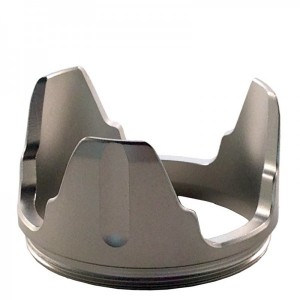 The bezel is usually found in the front area of a flashlight in a ring around the lens. Some bezels are more specialized for striking would-be attackers. These are known as crenelated bezels with the word "crenel" coming from the rocky outcrops seen on the top of the battlements of old castles. Bezels come in varying sizes and shapes with the more weaponized bezels being larger and sharper. Crenelated bezels are good for smaller tactical flashlights because they're discreet and portable. The majority of flashlights make removing and replacing bezels simple, with most simply screwing on to the lens cap.
Using the Light:
There are a multitude of ways that you can use your flashlight's standard functions to help ward off attackers.
Identification:
The majority of muggings and assaults occur at night, so simply having the ability to expose an assailant before they get close enough to attack you may be
all you need to defend yourself. Using the light to properly identify your attacker should also double as an attention grabber for others to help you if you're in a populated area.
Stun/Blinding:
Another function that can be used for effective self-defense is the strobe or high mode on your flashlight. Shining a strobe or high-powered beam into an attackers eyes is a great way to stun or blind the assailant. Stunning your attacker can give you the crucial few seconds needed to either escape, or fight back while they are unable to defend themselves. Low kicks or jabs are effective as the attacker will most likely raise their hands to cover their eyes leaving the lower half of their body exposed. Also, if your flashlight has a crenelated bezel attachment, this is the perfect opportunity for you to use it. Your flashlight should be sufficiently bright (over 100 lumens) in order for it to be truly effective in disorienting an attacker.
Use with a Gun: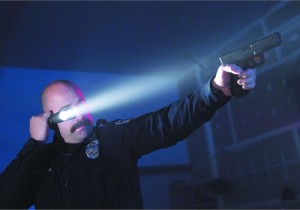 Many people exercise their right to carry a firearm to defend themselves, but in dark situations, gun use may be dangerous or ineffective. Having a small tactical flashlight on your person is an easy fix to this problem because it allows you to light up your surroundings with one hand and use the gun with the other. It is important to note that you will not want to have your flashlight and gun pointing together, like on TV, or you may accidentally fire your gun if you are startled by something that your light beam uncovers.
Take it with you Anywhere:
Another big advantage to carrying a flashlight for self-defense is that you can take it with you almost anywhere, which cannot be said for other forms of defense like firearms and knives. The only situation that might cause you trouble is if the flashlight is fitted with a bezel that is deemed too dangerous, but this rarely happens if the bezel teeth are within reason. Most flashlights are small enough to be carried on your belt or in your purse and if you never end up needing to use it for defense, you will always have a high quality light source when you need it. Come visit our tactical flashlight section at Battery Junction and see what flashlights interest you!