If you've never carried a flashlight by your side daily, it may not sound that useful. But much like a pocketknife or a lighter, once you begin carrying a keylight, you begin to see uses for it everywhere. Eventually you begin to wonder how you ever lived without one.
If you're looking for the TL;DR version, jump to the bottom to see my top recommendations.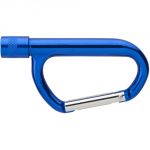 I still remember the first time I used a keychain flashlight and saved myself some grief. It was a classic "fumbling with keys in the dark" moment. I had parked my car in a woodsy area off the road from where I worked. By nightfall it had become a minefield of rocks and tree branches, the kind of place where you might accidentally sneak up on a skunk or other critter. What's worse, it was a moonless and overcast night, and the darkness was so inky, I could barely see my white car! I had to stumble over a rock before I remembered that I was actually carrying a light with me: a rinky-dink combination LED and carabiner.I was so used to thinking of it as the hook that attached my water bottle to my bag, I had forgotten it had a built-in flashlight. When I turned it on, I could see everything so clearly that I actually chuckled at myself for not thinking of it sooner. Instead of taking slow, cautious steps over the rocky ground, I was able to breeze right up to my car, unlock it, and get on the road after a long day's work. From that point on, the problem wasn't remembering to use my flashlight – it was keeping it loaded with fresh batteries!
So if you're bewildered by all our gear, technical specifications, and unfamiliar brand names, no worries! As of this post I've been at Battery Junction for just over a month, and I feel like I've just dipped my toes in the water. In fact, part of the reason I'm writing this post is because I'm considering picking up a couple of these lights for myself and my loved ones. Let's take a look at some of the coolest keylights in our inventory and find you a good match.
The Mini-1 is so adorable I could explode. This stubby little guy is basically the size of a pen cap, but it blasts out an impressive 130 lumens, which puts it near the top of this list in terms of raw power. The real kicker is the durability of its construction. Machined out of stainless steel, the Mini-1 is rugged, waterproof, and 1M impact resistant. It's far and away the toughest of the keylights I'm reviewing. It's almost like they knew you'd be clipping it to your keychain and then dropping it. God, why is it so adorable? It comes with a rechargeable battery, and you can recharge it with a micro-USB cord. Cute overload!
How it ranks:
Easily the most durable keylight on this list!
In terms of brightness, it's essentially tied for second place with the 132 lumen Titanium Innovations Illuminati.
Tied with the Photon for smallest form.
Moderately pricey, but probably the last keylight you'll ever have to buy.
I'm not gonna lie: we give these out for free on orders of $20+ because we know they'll get you hooked. I wouldn't blame you if you saw the $0.99 price tag on these and figured they're cheap and mediocre, but as one of our highest-rated products, the 5 star reviews just keep pouring in. I grabbed one from the Warehouse, and I can totally see why customers are inclined to rave about the Keylight. It's super tiny, about as light as a pen, and feels really natural between your thumb and forefinger. The button on it is very soft and easy to operate. Combined with fun colors for both the body and the LEDs, these are perfect for kids as safety lights. Buy them by the handful and give them away as stocking stuffers. Heck, if you want to buy in bulk for your company, event, or promotion, did you know we can even make them with custom labels? If you want to see how handy it can be to add a keylight to your everyday gear, but want to stay frugal, start here.
How it ranks:
Hands-down the cheapest keylight we offer, but still boasts impressive quality.
Second-smallest light on the list.
One of the highest-rated products we sell (5 stars, over 40 reviews).
I'd call the Micro-Light II the "big brother" of the Titanium Innovations KEYLIGHT, since it upgrades several key features. But the Photon is smaller than the KEYLIGHT, which kind of mucks up my whole "big brother" comparison. Oh well. The point is, it's brighter, more durable, and slimmer than the KEYLIGHT, while still retaining the same basic form and simplicity.
The Photon Micro-Light II is the only light on this list to offer two on-off switches: a toggle switch for constant-on, and a thumb-press button if you just need momentary light. The LEDS are available in a variety of colors, some of which have neat properties or applications. (See a more detailed explanation of the uses for each color on the product page.)
How it ranks:
Tied with the Mini-1 for smallest form.
Tons of LED colors available if you have specific needs, or like rainbows.
With its rugged good looks, 132 lumen beam, and three brightness settings, the Illuminati is quite possibly the perfect entry-level flashlight. Why? Because you get to experience some of the features of full-sized lights (rugged body, multiple brightness settings, waterproof seals) at a tiny size and an affordable price point. Unlike some of the other items on this list, the Illuminati actually looks like a flashlight, feels like a flashlight in your hands, and is sturdy enough to take a beating. The hard anodized aluminum body is a step up from the plastic of some of the smaller lights, but the Illuminati is still the size of the average car key. It runs on widely-available AAA batteries (though I recommend some high-quality rechargeables if you plan on using the full-strength beam often). IPX-7 water resistance means you can actually drop it in a meter of water and it will still operate. Its light weight and compact dimensions make it look and feel at home on your keychain.
How it ranks:
One of the only two lights on this list that takes AAAs (along with the Titan Plus).
In terms of brightness, it's essentially tied for second place with the 130 lumen Niteye Mini-1.
Named one of the nicest-looking keylights in our totally scientific office poll.
We're confused too. Here in the office, we're still trying to figure out how the Tube got its name, seeing as there's nothing tubular anywhere in its design. And since we're a bunch of snarky geeks, we'd probably mock it to death if it weren't so darn well-made. Instead, its name just became a loveable quirk of one of our favorite lights.
Feature-wise, the Tube is really impressive. It has two brightness settings, but you can also adjust the brightness to anywhere in between those fixed settings, allowing you to reach the perfect balance between brightness and battery life. It's impact resistant and water resistant. And it recharges via USB micro cable—the same adapter type as most smartphones. It doesn't shine as bright as some of the heavier hitters on this list, but it's still more than enough raw power to get you out of the dark. The Tube is a true Jack-of-all-trades.
How it ranks:
One of the highest-rated products we sell (4.5 stars, over 100 reviews).
Well-balanced between brightness, features, and price.
Named one of the nicest-looking keylights in our totally scientific office poll.
Ok, fine, strictly speaking it's not a keylight. The Turbo is a bit different from most of the lights we offer, in that it charges in your car lighter. But consider how often you need a light for your car. If you've tried to outsmart fate by putting a cheapo light in your glovebox, you probably grabbed it in your hour of need, only to find the batteries had died. Argh, they discharged from sitting unused for so long! Since the Turbo lives in your lighter outlet, it constantly stays charged to max capacity. Ideal for pinch hitting while you replace your dead dome light, locating a wallet that fell under the seat, or peeking under the hood in the dark.
How it ranks:
Cleverly sidesteps the dead flashlight batteries in your glove compartment.
Not exactly a keylight.
I put it on this list because I felt like it. Whatever. Don't tell me what to do.
They didn't give it this name for nothing. The Titan is the light that will begin to inspire the lust and yearning that may convert you into a full-fledged flashoholic. It's the brightest, biggest, and most expensive of the flashlights on this list. (Well, biggest, in a manner of speaking. It's still super-portable. Compared to a Sharpie marker, it's about as thick, and almost exactly as long as the gray body of the marker.) The stylish Titan tops out at 300 lumens, which is more than double the next-brightest lights on this list. Powered by a single AAA battery, this beast gets immense amounts of light out of a common and widely available cell. You'll definitely want to invest in some good rechargeables if you spring for this one. Three different output levels let you adjust brightness based on your task. The body is constructed out of nickel-plated solid brass, which gives it a lovely heft. Plus Surefire products are guaranteed for life, so in the rare event that it breaks or malfunctions, you're completely covered.
How it ranks:
The brightest on this list, by a longshot—more than twice as bright as the Mini-1 and Illuminati.
One of the only two lights on this list that takes AAAs (along with the Illuminati).
Three different brightness settings.
Named one of the nicest-looking keylights in our totally scientific office poll.
My recommendations:
Entry level no-brainer light:
Perfect for newcomers who want to enjoy the utility of an everyday carry flashlight without breaking the bank. Also hard to go wrong if you're having trouble deciding between the lights we've reviewed today. If you get one and find yourself wondering "What if it was a little brighter?" or "I wish the beam was a little more focused," come back to this article and try one of my mid-tier recommendations.
All-around versatility:
Affordable, compact, cool-looking, easy to recharge, tons of settings, and bound to make people ask where you got it. This is the light that many Battery Junction employees carry. After using the Tube for a year or two, you'll know whether you need a more application-specific flashlight to compliment this great all-rounder.
The dream light:
When you power up your Mini-1, folks of your preferred sex and gender will suddenly circle you, cooing at your style and sensibility. They'll wonder how you combined such brightness with such a small form. They'll marvel at its USB rechargeability and durable, waterproof frame. You will no longer have to pay for drinks, repay debts, or show up for work on time. You'll slyly say that you paid a little more for it than some other keylights you could've bought, but it was worth every penny. You devil.
What keylight do you carry? What are your favorite features? Have you ever swapped or upgraded? Let us know in the comments—we read every one!