Remember this guy?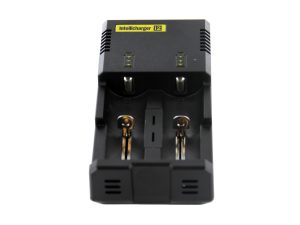 It's one of the best chargers we sell. Heck, it's one of the best-selling chargers of all time. But doesn't it look a little … I dunno, Radio Shack? Well, Nitecore decided that it was time to give their charger a makeover. They threw in some extra muscle as well. Meet the New i2.
New Paint + More Power = Better Charger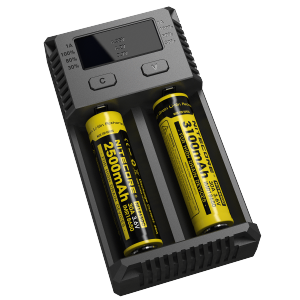 The strength of the i2 series (and its 4-bay sister model, the i4) has always been that it can charge anything you throw at it. (I recently used our office's old i2 to recharge my desk's mini stapler and a piece of broccoli. Seriously, those bays will accept anything.) The New i2 upgrades the display of the previous version, offering more information about real-time charge level and voltage. The addition of buttons under the display allows you to set the charging voltage on each slot independently. Best of all, the new i2 allows you to put double the juice into whichever bay you select. The old i2 topped out at 500mA per bay, but the new version allows you to fast-charge one of your cells with 1000mA. One full amp of current means your battery is ready to rock that much more quickly.
Meet the Monster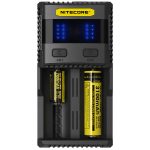 Want even more control and flexibility? Step up to the new SC2, with even more features and raw power than the i2. With a selectable charge up to a whopping 3 amps of current, the SC2 allows you to recharge your lithium batteries in record time. This feature is ideal for IMR batteries, which are popular for vaping. (IMR chemistry can often accept higher recharge currents than other types of batteries. So while the new i2's 1000mA current may be pushing it for some cells, lots of vape batteries are happy to accept 2 or even 3 amps of current.) Dual power inputs and a USB output give it maximum versatility. Compatible with a wide variety of cell formats, chemistries, and voltages, the SC2 is perfect whether you're a vaper, flashoholic, photographer, or tinkerer.
It's hard to beat Nitecore's chargers for their versatility, features, and speed. If you've been looking for your dream charger, grab an upgraded i2 or SC2 today!